Hi Everyone,
Hope all is well and 2022 will be the beginning of a year of many blessings for all of you.
Today is January 6th and otherwise known as The Epiphany (the 12th day after Christmas).
According to tradition, trees and decorations should be removed on either the 5th or 6th of January (a practice my mother made sure was followed in our home).
For the Roman Catholic Church, Epiphany on January 6th celebrates the visit of the Three Kings (Magi), Melchior, Balthazar, and Gaspar, led by a star to meet and bring gifts to the infant Jesus.
On the Feast of the Epiphany in my home, we traditionally celebrate by eating Panettone. This marks the end of the holiday season.
Panettone is an Italian cake that is recognized by its tall domed shape. It is a sweet dough with raisins and candied fruit and today there are many varieties on the market and you can buy chocolate, pear, and chestnut to name a few. The store Eataly sells many different brands and varieties. This year we purchased our favorite, glazed chocolate.
*****************************
Along with The Feast of The Epiphany, in Italian households, we celebrate La Befana on January 6th…
According to folklore, La Befana is said to be an old woman and many refer to her as a witch who lived alone in the hills of Italy spending her days cleaning and cooking. One night she noticed a bright light in the sky but she ignored the light and went back to sweeping her home.
On this very night, the Three Wise Men arrived at the home of La Befana and asked her how to get to the road to Bethlehem and they asked her to join them on their journey to bring gifts to the Christ child.
She initially refused because she was too busy doing her housework, but then she tried to follow them.
She was unable to follow them or find Jesus and Italians say that Befana is still searching for that baby and, on her quest, she leaves treats and toys, candy and fruits for well-behaved children and the naughty children get chunks of coal, onions, garlic, and dark candy or even straw from her broom.
She rides on a broom and enters the home through the chimney and is a nice old witch, so La Befana is also said to sweep the floor for you.
When I was a child, we followed tradition and left a plate of cookies and a glass of wine for La Befana (this is similar to leaving milk and cookies for Santa). The cookies were always in the shape of a star to signify the Star of Bethlehem that La Befana saw through her window.
I had the pleasure of making these cookies every January 5th with my grandmother while she told me the story of La Befana. We always received gifts from La Befana in our Christmas stockings but my grandmother told me in Italy some children received their treats from La Befana in their shoes.
I could listen to my grandmother for hours on end and she meant the world to me. Still does...
I have posted a recipe for La Befana cookies below that I have been using for years and I don't remember where I copied it from so I am sorry to the author of the recipe that I can't mention your name for full credit but it is not my recipe or my grandmother's recipe- it is a typed copy from an article but very good.
It is basically a sugar cookie with added anisette, vanilla, and orange zest and I hope you try them. Buona Befana! – Happy Befana!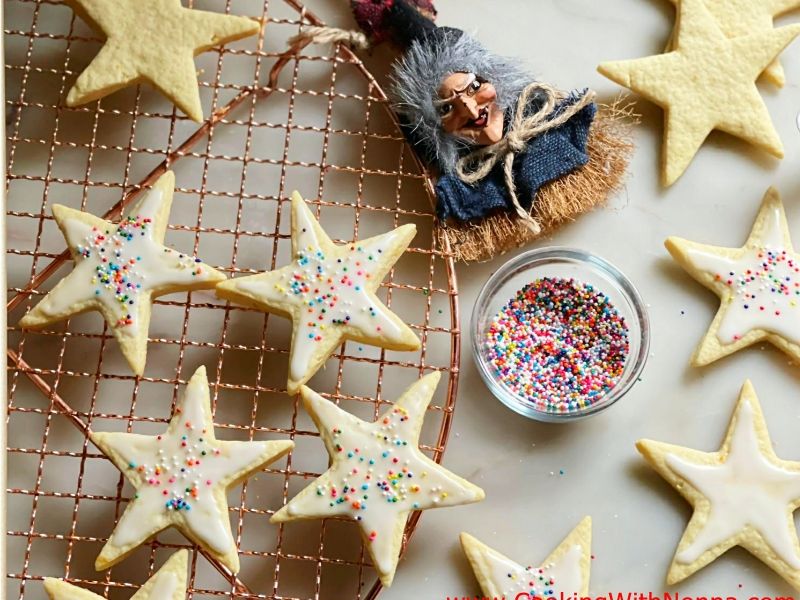 La Befana Star Cookies
Ingredients
3 ½ cups unbleached flour
½ teaspoon baking powder
½ teaspoon kosher salt
1 ½ cups (3 sticks) unsalted butter, softened
1 ¼ cups granulated sugar
1 large egg
2 large egg yolks
1 teaspoon pure vanilla extract
2 teaspoons anisette
Freshly grated zest of 1 orange
1 large egg yolk
2 tablespoons heavy cream
Multicolored sprinkles
Instructions
In a medium bowl, whisk the flour, baking powder, and salt together and set aside.
In an electric mixer (the paddle attachment), cream the butter and sugar together on medium speed until creamy and light.
Beat in the egg and egg yolks, one at a time, scraping down the sides after each addition, followed by the vanilla extract, anisette, and orange zest. Beat in the dry ingredients at low speed to form a stiff dough. Remove the dough from the bowl, flatten it into a disk, wrap it in plastic, and chill until it is firm enough to roll for about 1 hour.
Preheat the oven to 350°F. Lightly grease two baking sheets with nonstick cooking spray or line them with parchment paper.
Divide the dough into 3 equal pieces; work with 1 piece at a time, keeping the remaining pieces refrigerated. On a floured surface, roll the dough to a thickness of 1/8 inch. Using a floured 2-inch star-shaped cookie cutter, cut the dough into stars. Place the cookies ½ inch apart on the baking sheets.
Gather the scraps together and repeat rolling and cutting until you have used all the scraps; it may be necessary to refrigerate the scraps until they are firm enough to roll again.
To make the glaze: In a small bowl, whisk the egg yolk with the cream. Using a small pastry brush, lightly brush the surface of the cookies with a bit of glaze and decorate them with sprinkles ( I use confetti sprinkles).
Bake the cookies until they are lightly golden brown, 12 to 14 minutes, rotating the baking sheets halfway through the baking time.
Allow the cookies to cool slightly on the baking sheets, then gently remove them with a spatula to a wire rack to cool completely.
******************************
If you are interested in reading the story of "La Befana" to your children or just want to have the book as a keepsake, the classic story is told by author Tomie dePaola and is sold on Amazon.
Have a wonderful feast day, enjoy some cookies and panettone and enjoy every day to the fullest.
****************************************
Until my next post, make every day a celebration!
Stay well,
Diane
Please ask your family and friends to "follow", "like" and "share" DishingwithDiane.com
Once you become a member, you'll never miss a post…
Also, continue to send me your comments, I love hearing from you.